Chicken Shawarma - Luminarc Simply Trompette
Chicken Shawarma - Luminarc Simply Trompette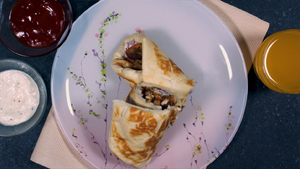 Ready in: 55 mins | Serving: 4
Ingredients
1 1/2 pounds chicken thighs/breasts (boneless, skinless, thinly cut)
For the Marinade:
1 cup yogurt (plain)
2 cloves garlic (crushed)
2 cardamom pods
2 tbsps. lemon juice (from 1 lemon)
1 tsp. pepper
1/2 tsp. salt1/4 cup vinegar
1 tsp. allspice
1/4 cup vinegar
Sauce:
1 cup tahini
1/4 cup lemon juice
2 tbsps. yogurt
2 cloves garlic (crushed)
Sandwich:
1 to 2 tomatoes (thinly sliced)
1/2 tsp. sumac
Pickle slices (optional)
1 cucumber (thinly sliced)
1 onion (thinly sliced)
8 small pita breads (4 large pita breads)
1/2 cup fresh parsley (finely chopped)
Directions:
Marinade
Take a large bowl, add yogurt, vinegar, salt, pepper, crushed garlic, allspice, lemon juice (1 lemon) and cardamom
Add the chicken in the marinade and mix well. Add olive oil if the mixture seems dry. Cover the bowl with a plastic wrap and refrigerate for 8 hours or overnight
Chicken:
Take a large saucepan, add in marinated chicken and cook over medium flame for about 45 minutes or until done. Add some water if the chicken looks dry
Shred or slice the chicken when done
Sauce
Take a small bowl, add tahini, lemon juice (1/4 cup) crushed garlic (2 cloves) and yogurt. Mix all the ingredients well. Set aside
Assemble the Shawarma
In a large bowl, add tomatoes, cucumbers and onions. Sprinkle sumac on top and add in pickle slices (optional) and parsley. Mix them all together. Place the bowl aside
Put the chicken on pita bread and cover ¼ of the bread. Add all the vegetables and pour sauce on top. Roll the bread and serve!