Mexican Rice
Mexican Rice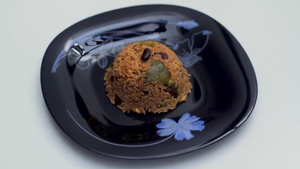 Duration: 60 minutes
Ingredients
2 cups rice
2 tbsps. oil
1 large sized capsicum (chopped)
1 cup frozen corns
¾ cup green peas
1 ½ cups kidney beans (boiled)
1 tbsp. chili flakes
Salt
1 ½ tsp. cumin powder
1 tbsp. oregano
1 tsp. crushed black pepper
2 cups vegetable stock
1 ½ cups tomato puree
1 tbsp. lemon juice
6-7 sprigs of fresh coriander (chopped)
Directions
In a pan, heat some oil. Add in rice and let it cook.
Add in capsicum, corn, green peas and kidney beans. Mix well and cook for a few minutes.
Now add chili flakes, salt, cumin powder, oregano and crushed black pepper. Mix well.
Add in vegetable stock, tomato puree, lemon juice and coriander. Mix and let it cook. Cover the pan with lid and cook until the water dries up.