Gola Kabab
Gola Kabab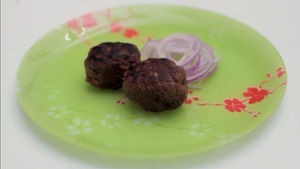 Duration: 80 minutes
Ingredients
½ kg ground beef
1 tsp. chili flakes
1 tsp. red chili powder
1 tsp. coriander powder
1 tsp. ginger powder
1 tsp. cumin powder
1 tsp. chaat masala
1 tsp. garam masala
1 tsp. gram flour
Salt
1 tbsp. green chili paste
1 tbsp. ginger paste
1 tbsp. garlic paste
1 tbsp. yogurt
1 tsp. corn starch
2 cup fried onion
Oil
A piece of coal
Directions
In a grinder, add beef, chili flakes, red chili powder, coriander powder, ginger powder, cumin powder, chaat masala, garam masala, gram flour, salt, green chili paste, ginger paste, garlic paste and yogurt. Grind all these ingredients together.
Now add corn starch and fried onion. Grind the ingredients again until a thick paste is obtained.
Transfer the grinded mixture in a bowl. Place a pre-heated coal on aluminum foil in the center of the bowl. Add a few drops oil over it and cover the bowl with a lid to led the aroma spread
Make small balls from the beefy mixture. Insert a stick through the meat to make a hole in the center.
Now heat some oil in a pan over medium low heat. Add kebab balls in the pan and fry until the desired color is obtained.