Stuffed Egg Plant
Stuffed Egg Plant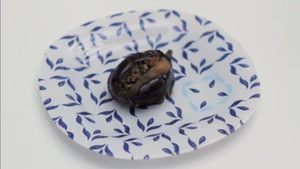 Duration: 60 minutes
Ingredients
5 tbsps. oil
2 cloves garlic
3/4 cup red onion (chopped)
½ lbs. ground beef
1 tsp. stew seasoning
Salt
1 tsp. red chili powder
1 tbsp. tomato paste
1 bunch French parsley
3 or 4 eggplant
2 tomatoes (sliced)
Directions
In a pan over medium flame, add 2 tbsps. oil, garlic and onion. Saute for a minute. Now add ground beef to the pan. Mix well.
Now add stew seasoning, salt, chili powder, and tomato paste. Mix everything together. Cover with a lid and let it cook half way. Add in parsley and mix well. Cook until well done.
Now peel alternate layers of the eggplants. Add cuts to the peeled portions only to insert the filling.
In a separate pan add 2 tbsps. oil and heat. Add in the eggplants and cover the lid. Let them fry until color changes.
Fill the fried eggplants with filling. You may use toothpicks to hold the filling inside.
Now add 1 tbsp. oil in a pan. Layer it with sliced tomatoes. Add filled eggplants on top and then add another layer of sliced tomatoes.
Place the pan on the stove and cook over medium flame for about 10 minutes with the lid on.
Serve hot and enjoy!