Lemon Cup Cake
Lemon Cup Cake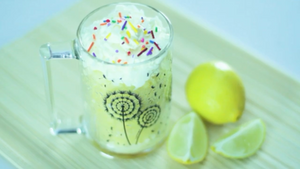 Duration: 20 minutes
Ingredients
3 tbsp. all-purpose flour
¼ tsp. baking powder
3 tbsps. granulated sugar
1 tbsp. icing sugar
1 egg
2 tbsps. vegetable oil
2 tsp. lemon juice
1 tsp. lemon zest
Directions
In a mixing bowl, add all-purpose flour, baking powder, granulated sugar, icing sugar, egg, vegetable oil, lemon juice and lemon zest. Whisk with a fork until the consistency becomes thick and smooth.
Transfer the mixture to a mug. Place it in the microwave for 5 to 6 minutes.
Add rainbow sprinkles on top.