Sheerkhurma
Sheerkhurma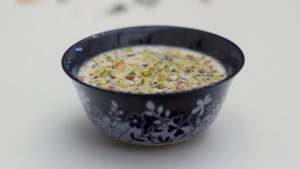 Duration: 40 minutes
Ingredients
3 tbsps. ghee
½ cup dry dates (soaked for 1 hour)
1/3 cup raisins
8 to 10 almonds (soaked, peeled)
8 to 10 pistachios (soaked)
½ cup vermicelli (crushed)
1 liter milk
½ tsp. cardamom seeds
1/3 cup sugar
¼ cup dried coconut (chopped)
1 tsp. kewra water
Directions
Add a tablespoon of ghee in a pan. Let it melt and add dry dates, almonds and pistachios to fry. Set aside.
In a pan, add 2 tablespoons of ghee and fry crushed vermicelli in it until they turn soft.
Pour 1 liter milk in a pan. Allow it to boil on medium flame. Now add cardamom seeds, sugar, and dried coconut with occasional stirring. Add in fried nuts and fried vermicelli. Mix well.
Add kewra water in the mixture. Stir the mixture constantly while it cooks for a few minutes.
Garnish with crushed pistachios on top.