Maple Fish Recipe - Luminarc Altesse Blue
Maple Fish Recipe - Luminarc Altesse Blue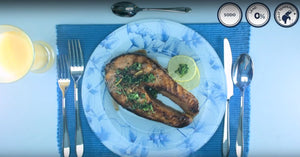 Duration: 60 minutes
Ingredients
¼ cup maple syrup
1/8 tsp. black pepper (ground)
¼ tsp. salt
1 clove garlic (minced)
2 tbsps. soy sauce
2 pieces salmon fish
Directions
In a mixing bowl, add maple syrup, black pepper, salt, garlic and soy sauce. Mix everything together.
Place the salmon in a shallow baking dish.
Pour the maple syrup marinade on top. Make sure to coat both side of the fish. Now cover the dish with a plastic wrap and place the fish in the refrigerator to marinate for at least 30 minutes.
Preheat the oven to 400 degrees Fahrenheit or 200 degrees Celsius.
Place the fish in the oven to bake until it's fully cooked