LumiJunior VITAMIN POWER Dinner Set by Luminarc
LumiJunior VITAMIN POWER Dinner Set by Luminarc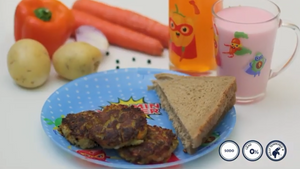 Directions:
Boiled Meshed Potato ½ Cup.
Chopped Onion 2 TBSP.
Chopped Capsicum 2 TBSP.
Grated Carrot 2 TBSP.
Bread Crumb 2 TBSP.
Salt to Taste.
Black Pepper ¼ TSP.
Garam Masala ¼ TSP.
Oil 1 or 2 TBSP on Pan.
Fry Cutlets Until Brown from Both Sides.
Ready to Serve.